The best work bag I've had so far? Easy! The Knomo London Curzon laptop bag.
Over the last 12 months I've gone through three work bags.
When I had to change my work bag earlier this year, I decided to put a bit more research into my purchase.
The Criteria
For my next bag I was looking for the following:
Big enough to carry my daily essentials
Light when empty
Waterproof (because this is the UK and it rains at the slightest opportunity)
Zipped external pocket
Zipped main compartment
Long enough handles to be carried easily over the shoulder
Subtle logo (if any)
Something that looked professional regardless of whether it was a backpack
With all this in mind, I narrowed it down to these options:
Miss Lulu top handle bag
Knomo London Curzon laptop bag
Storm Shiara Cabin Tote
Cost £15 (multi-buy offer price)
Colour Berry
I already owned this bag so I was happy to use it for a while. And, I needed a bag quickly, so it was an obvious decision to be used.
The Storm bag held up as long as possible. But in the end, it just wasn't made to deal with the capacity of items that I put in my day to day work bag.
Not sure when I stated using this bag, but in March the bag stated breaking. The stitching holding the bag handles to the main compartment was coming off. If I didn't replace the bag soon, these would fall clean off eventually. Also the piping in the handles was wearing down at points where they bent often. And I think the lining in the front pocket had a hole so I would frequently lose my Oyster card. Let me be clear, this bag was lovely and I really liked the colour. And, if I carried a normal amount of items in my bag, then I'm sure it would've lasted me a lot longer. But, I am me, so it didn't .
At this point, I was trying to decide between two bags, the Miss Lulu top handle and the Knomo London Curzon.
Although the Curzon looked lovely and the size was perfect, I missed out on the fully leather version so it wasn't exactly as waterproof as the Lulu. At this point, the Curzon would've been the most that I had spent on a bag and I wasn't sure I'd regret it or if it was even worth it.
So I initially went for the Lulu.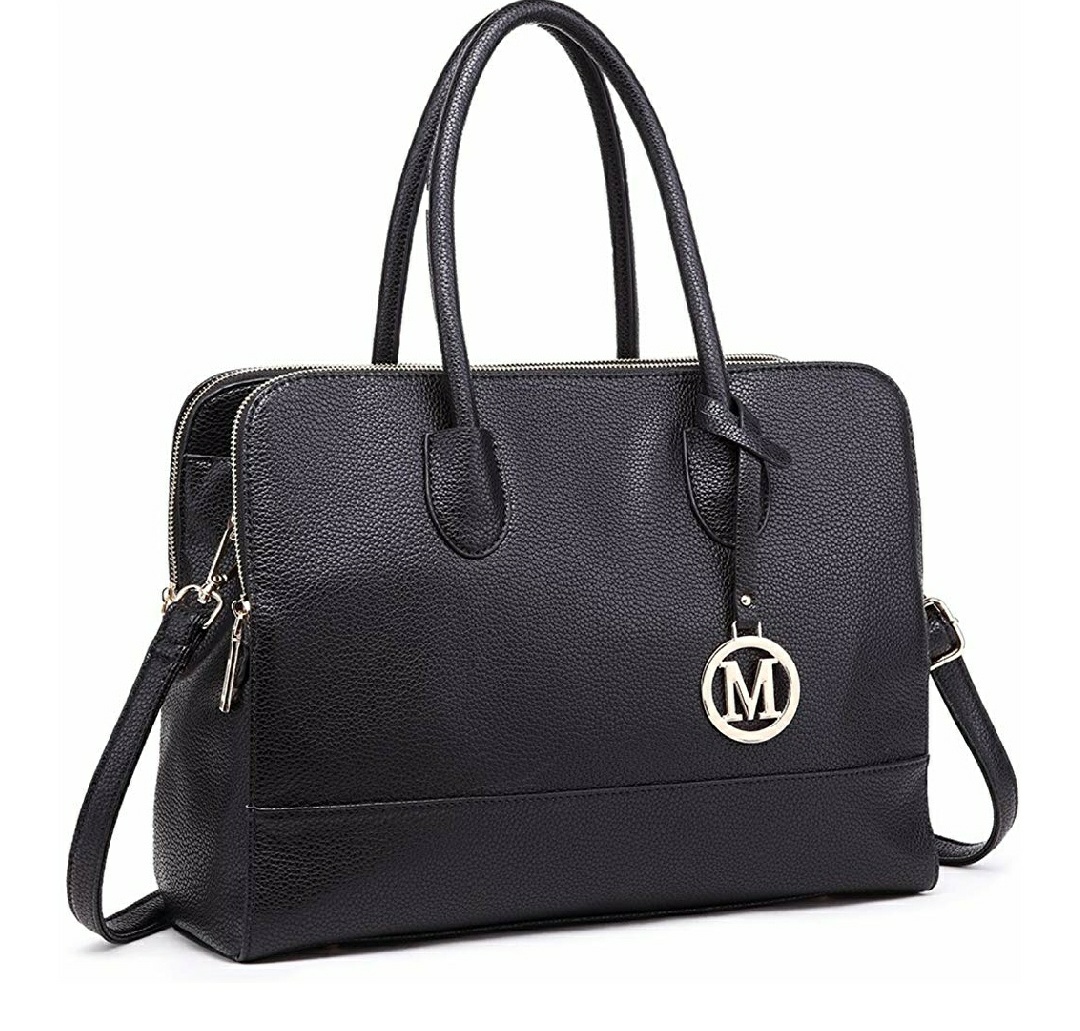 Cost £22.99
Colour Black
I bought this bag mid-March. This was purchased via Amazon. While not advertised as a laptop bag, the bag was pictured with one in it. This was probably just to indicate the size of the compartments but I thought, if it fits, why not use it?
Unfortunately, this bag didn't last. It maybe because of a manufacturing fault (I'm guessing) with the one bag. Or it could've been that the product just wasn't designed for my type of use. So, after about six weeks of use, one of the top handles had broke.
I was using the handles as shoulder handles and, although it was a bit of a squeeze, it was manageable but not practical long term.
Despite this, I do have a good opinion of the company. When I contacted them about the fault, they just asked for pictures and then send me a new one straight away.
I actually would buy another bag from this label but, I'd make sure that it was fit for purpose.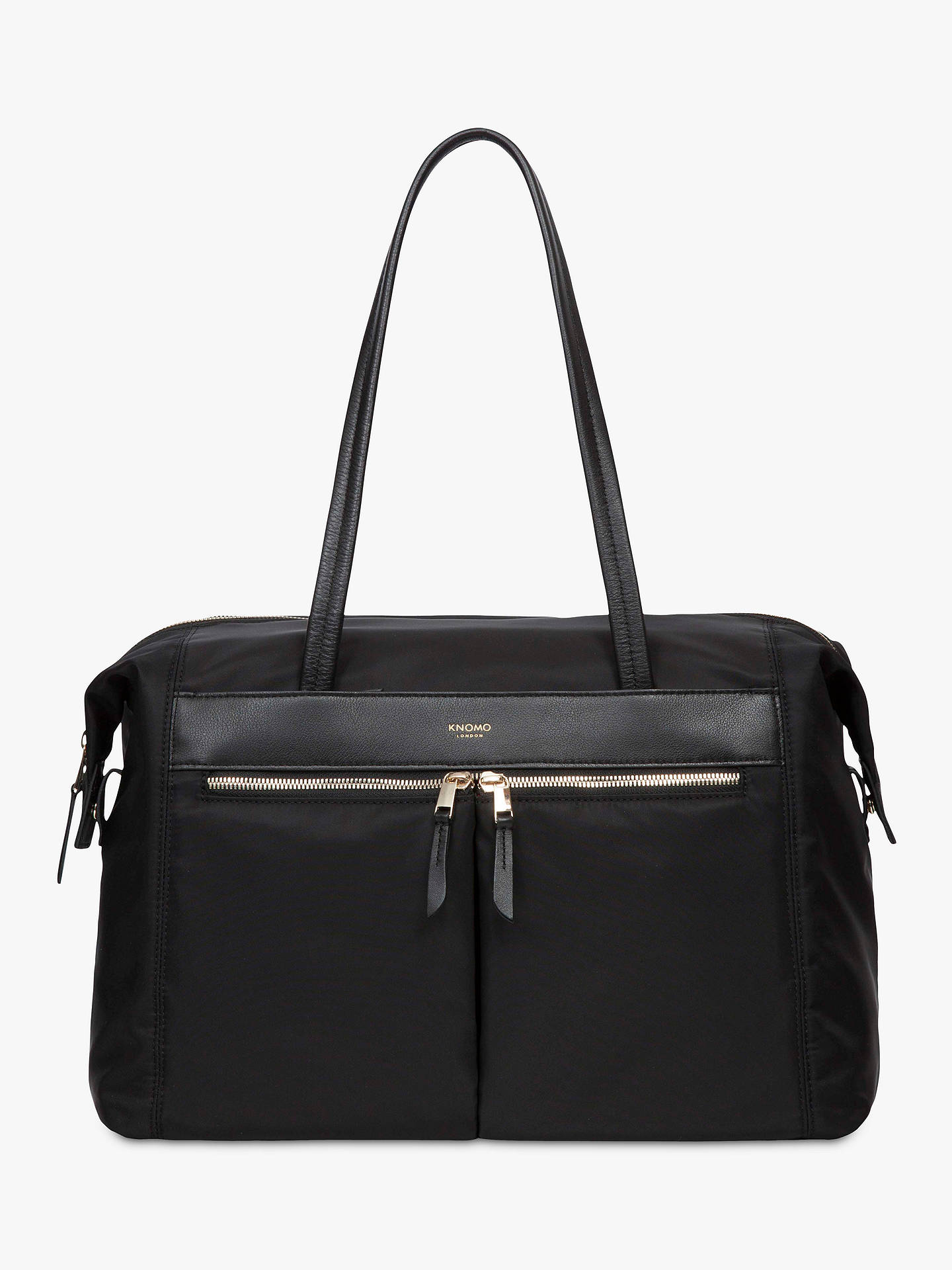 Cost £179.99
Colour Black
After the issues I experienced with the Lulu bag, despite getting a replacement and great customer service from the Lulu support team, I was wary about using this bag again for work. It now sits in my attic within its dust bag.
So I went back to my original choice, handed over my card, closed my eyes and bought the Knomo London Curzon. And I have to say, I've had this bag since April and it's been amazing. It was the first "designer" bag I've even bought and it was completely worth it.
I've been really happy with the Knomo London Curzon and I regret going back and forth about the price and not buying it sooner. I bought it from John Lewis in the end and with their two year guarantee, I've got piece of mind that if anything happens fault-wise, that they'll replace it.
Curzon Discontinued…For Now
Unfortunately, it seems like Knomo London have discontinued this design so I'll have to test out the alternatives from the range of I need another. Or, I may have to start my search all over again. But, my mind has definitely been changed about cost equating to quality.
I learned a while ago that if you spend a bit more on higher quality footwear, you get more out of them. And now, I definitely put bags into the same remit.