I consider myself someone who embraces new technology, games consoles, smartphones, tools or software. From a young age I've always had an interest in tech which has followed me all through life so far. But time and time again it still happens. I come across examples that make it obvious that this product that I enjoy or spend a lot of time using was not designed for me or with me in mind.
This week, I recall a particular issue that I has when I was buying my first smartphone.
Smartphone Keyboards
In 2010 I decided to let go of the monthly phone contracts and upgrade to a two year contract. This would allow me to get my very first smartphone. HTC Desire was the first smartphone I tried in Carphone Warehouse but I soon came across a big problem.
I liked the size and look, but typing using the touch screen keyboard was particularly difficult. The main issue I had was that my nails were preventing me from using the keyboard. This was because I was trying to tap the buttons using my fingertips.
Now you can see in the image, I don't have particularly long nails. I've also never had the lengths that false nails provide. But every few weeks after they've been cut, my nails reach just over half a centimetre. It's at this point I tried using the Desire and I thought "if I'm going to have this problem every few weeks, then my life is going to get more difficult, not less with this device!".
Let's Try This Again
Seeing my annoyance and frustration, the sales assistance presented me with another option. He then brought out a Samsung Galaxy S.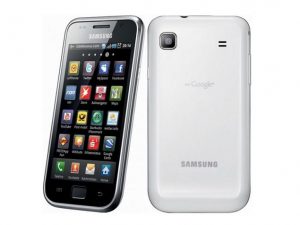 Why did he present me with another smartphone after I obviously wasn't getting along with this first one that was, at the time, the best selling? It was because of a small piece of software pre-installed on the Samsung Galaxy S devices called Swype.
Now I guess I would've experienced this problem with all smartphones, but only the Galaxy S had the Swype software to remedy this problem.
After he explained how to type using this feature, I was so happy. I signed the contract straight away and went home to show my husband. He was pleased for me, but not for him because he'd already purchased HTC Desire which didn't have this fabulous feature.
I know it seems like a small thing. But, if I never was introduced to Swype, I probably would've stayed a smartphone virgin for a couple more years. This small limitation excluded purple work long nails and generally that's women. Yes, we could cut our nails, but should we have to in order to use the product?
Since the introduction of Swype, it was available on any other Android devices via Google Play. Then Google even put their own swipe feature into their Google keyboard. And, amazingly, in September 2014 following the release of iOS 8, Apple opened up it's keyboard platform to allow developers to create custom keyboards to introduce Apple users to the magic of swiping instead of tapping keys.
We Need More Tools Like Swype
Swype had reduced the barrier to entry for me and I'm sure a lot of others with long nails. But there's one thing I want to draw attention to. There shouldn't have been an additional tool available by a third party company solving this solution. The phone manufacturers should've considered this when designing the phone and came up with their own solution. Reducing the barrier to entry for those with long nails may have introduced a lot more women into smartphones earlier than they did.
These days children have smartphones a lot earlier. Could this have been a way to change the way women and young girls thought about mobile phones. Maybe getting them into using it earlier would open their eyes into the possibility of creating with these devices?
Who knows, but it certainly wouldn't have hurt.
This post was exported in one click from 
Google Docs into WordPress
 with Wordable.