Last night, I went to the DevelopHer Reboot your Personal Brand, how to stand out in 2019 event. It was held at Syzygy in London who put on a nice selection of vegan, vegetarian food and drinks.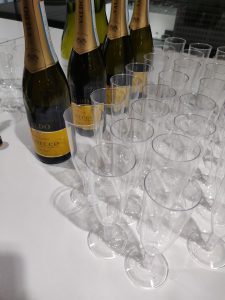 Event Space and Organisers
The Syzygy office was light, modern and really easy for me to get to so I was happy.
The event organiser, Sally,  and contact at Syzygy were really welcoming. In fact there were a few of the board members of DevelopHer dotted around in each group and they were really easy to talk, I thought they were just normal attendants.
The timings of the event was managed well so everything was on schedule. A lot of people even stayed behind after the main tasks were complete to network.
Main Event
There were four areas to the evening which were 30 minutes each and delivered in a speed coaching style (hopefully that makes sense). The areas were:
Update on your CV
LinkedIn profile
Professional profile headshot
Your personal presentation skills
After being split into groups, we were guided to our first area. Here, Dani Barett gave us tips about our LinkedIn profiles. I'm quite a regular user of LinkedIn so I knew the basics, but I did learn that you can tailor your "open to offers" option. This helps attract the right recruiters to you and, hopefully the jobs that match your skills.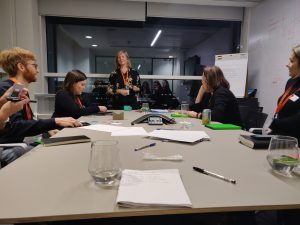 The second area was with Maarit Lilley. She mostly focused on our personal summary. It was interesting to hear the arguments for using the third person view and in what kinds of documents. I also got tips about where to put additional unpaid experience like my work with Lignum Vitae Club.
Our next stop was the photo shoot. I'm one of those people who don't like their picture taken. I'm so bad that I have to vet the images my husband can post on social media! So it's fair to say that I wasn't very comfortable in front of the camera. But, I accepted something  that night after talking to the lovely ladies and gentleman in my group.
Simply put, other people don't care about your imperfections in photos. Only you do, so ignore them, they're probably not as big a deal as you think.
The last stop was the personal pitch. Here, we were split into teams of two to practice our pitch. First, we had 30 seconds to tell them our name, job and what we do. Next, an extra 15 seconds was added for us to talk about what we enjoy doing, then another 15 seconds for what we want to do in future. Every time more time was added, we were asked to rotate someone out so that we spoke to the different people.
From this exercise I learned:
I talk a bit too much, I need to focus on cutting down what I'm saying for my pitch
You need to give energy into what you're saying (but not so much it's corny)
You need to listen to what people say and if you find a connection with them, use it to converseI
It's important to keep eye contact
Don't downplay anything you do by saying what you do is boring, because I bet it's not
Yes, I'd Go Back
Overall, the people, attendants and organisers were lovely. Everyone was approachable and I learned a lot. The atmosphere was very supportive and everyone was open and gave good and honest feedback.
I will definitely be on the look out for a future event.