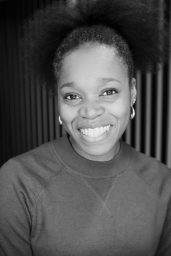 Kayleigh is a highly experienced and skilled development professional. She grew up in South London and has always had a love of technology and strong work ethic. Coming from an all girls school and then Sixth Form College from South London and then going into a Software Engineering degree course in Nottingham was a bit of a shock at first. She was always one of (if not) the only female within the seminar groups and definitely the only black female in her degree year of around 120 students. This environment taught her to be more confident, to speak up, and to not be afraid to do things by yourself sometimes.
Since graduating with a BSc in Software Engineering from Nottingham Trent University, she's worked in development roles within award winning tech companies for over 10 years.
Kayleigh has extensive testing experience including web frameworks, websites, games, SDKs, mobile and VR apps in manual, automated, functional and non-functional testing capacities. She is knowledgeable in object-orientated programming; unit, integration, API and UI testing. She has also development experience of .NET web applications, cross-platform mobile applications using Xamarin (iOS, Android and Forms) to develop both iOS and Android applications.
In 2017, Kayleigh created Junction 5 Studios, an app development company developing it's own IP and client projects. This company combines her creative and technical skillset with her determination to deliver projects of a high quality. After being incorporated for a short while, Junction 5 won a contract to work with a longstanding charitable organisation to develop a prototype of the Ishango app. In 2020, Kayleigh was a finalist for the Black Tech Achievement Social Good award for her work developing the Ishango project.
She has since extended the relationship with the now Eshango team. She continues to help them further develop their app as a technical partner working within Junction 5.
Because of her first-hand experience being a minority in the tech space, Kayleigh wants to encourage other black individuals, but especially women into the tech industry. She intends to use Junction 5 to help with this cause. She hopes to drive this forward with Junction 5's next project is called the FOBBS (Figures of Black British Society) app.
Kayleigh wants to inspire other Black British individuals into a wide variety of fields by highlighting the contributions and achievements of current or historic Black British figures. The FOBBS app is scheduled to be released in 2021 and with this, she hopes that she will add to help changing the black narrative.
Today, Kayleigh is currently the QA and Release manager for a cutting-edge VR technology company in London. She also works to build and grow Junction 5 Studios and the FOBBS app. She is currently working with a small team to build the MVP and looking for partners and sponsors for the first iteration.
For more information about how you can get involved with the FOBBS app, please email hello@junction5studios.com.